Vitality Suture™ Overview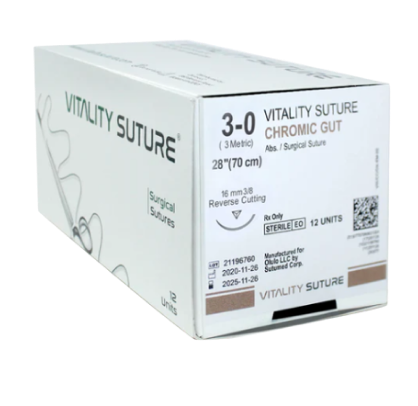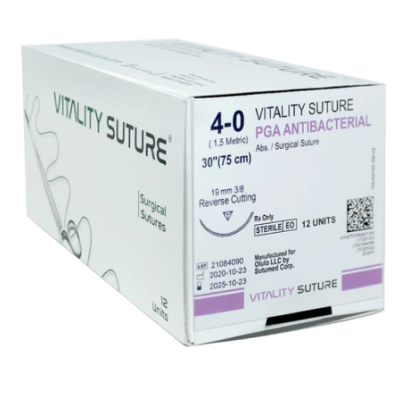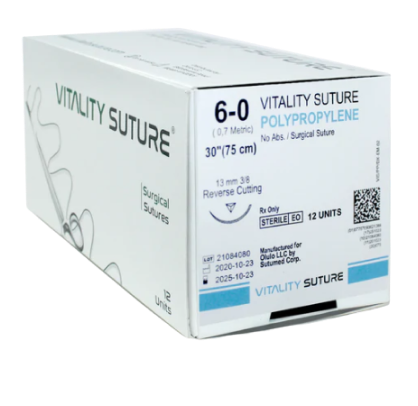 Vitality Suture™ Surgical Suture

- Designed by Clinicians for Clinicians
- Premium Oral Surgery Suture
- Extra Sharp Stainless Steel Needle
- Up to 15" Additional Suture Length Compared to Others



Suture Material
Indications
Needle Size and Shape
Notes

Best choice for wisdom teeth surgery,

dental implant surgeries.

3-0, 4-0, 5-0
3/8 reverse cutting 16mm,

3/8 reverse cutting 13mm. 18"

Vitality™ PGA (Polyglycolic Acid Polyglactin)

Dental implant surgeries combined with bone

grafting, Guilded Bone Regeneretion (GBR).

4-0, 5-0
19mm 3/8 reverse cutting

1/2 reverse cutting. 18"

Muccoginigival surgeries, Guided Bone

regeneration (GBR), Connective tissue graft

6-0
3/8 reverse cutting 13mm
"This is the best suture I have ever used. It has the suturing properties of a smooth suture which makes it very easy to tie and handle. I love the long length making it useful for large areas.
"
★★★★★
Jay Nokkeo, DMD.
"
I have been very impressed with the new Vitality suture and been using it exclusively! In addition to the excellent handling characteristics, the very generous length makes it more cost effective for larger cases where I previously needed more than one suture.
"
★★★★★
Leonard Goldman. D.D.S.
"
Vitality products have exceptional handling and properties. Just as importantly, this company provides excellent and personalized customer service!
"
★★★★★
Ziad Ali, MDM, MD.
Vitality™ Oral Surgery Suture Price List
Suture Material
Indications
Needle Size and Shape
Note
Price
Vitality™ Chromic Gut
Best choice for wisdom teeth surgery, dental implant surgeries.

3-0, 4-0, 5-0
3/8 reverse cutting 16mm, 19mm
Resorbable (7-10 days)
$34.00
Vitality™ PGA (Polyglycolic Acid Polyglactin)

Dental implant surgeries combined with bone grafting, Guilded Bone Regeneretion (GBR).

3-0, 4-0, 5-0
3/8 reverse cutting 16mm, 19mm
Resorbable (21-28 days)
$75.00
Vitality™ PGA (Polyglycolic Acid Polyglactin) Antibacterial
Dental implant surgeries combined with bone grafting, Guided Bone Regeneration (GBR).
3-0, 4-0, 5-0
3/8 reverse cutting 16mm, 19mm
Resorbable (21-28 days)
$75.00
Vitality™ Polypropylene
Muccoginigival surgeries, Guided Bine regeneration (GBR), Connective tissue graft, Free gingival graft
6-0
3/8 reverse cutting 13mm
Non-resorbable
$89.00
PTFE
Muccoginigival surgeries, Guided Bine regeneration (GBR), Connective tissue graft, Free gingival graft
5-0, 6-0
3/8 reverse cutting 13mm
Non-resorbable
$110.00